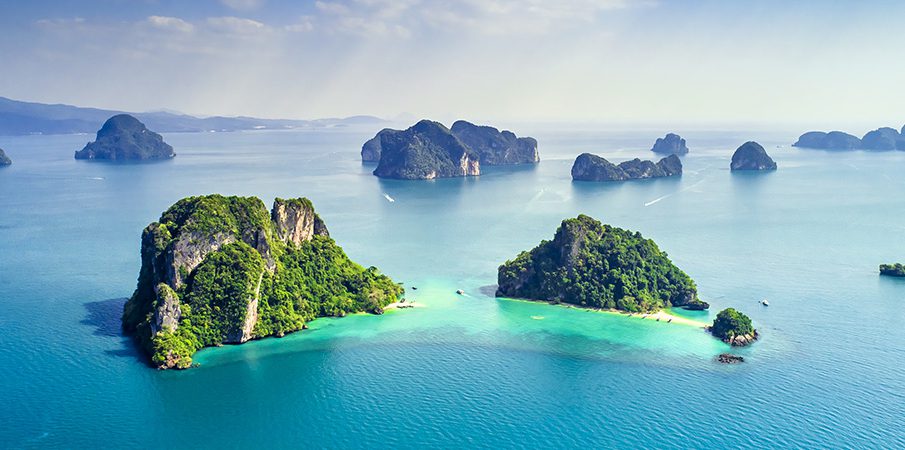 Whatever version you have in mind of what a paradise is, these five beautiful and breath-taking islands across the world can make your imagination a reality.
Isla de Providencia, Colombia
 Colombia is a country of near-ending discovery, with both Pacific and Caribbean coastlines, there are a vast amount of undiscovered islands sprawled along the seas. This includes two breathtaking islands which are actually closer to the coast of Nicaragua, Providencia and San Andrés, about 775 km (482 mi) northwest of mainland Colombia. Providencia has no direct flights from mainland Colombia or Nicaragua and it takes either an expensive, albeit quick, flight, or a pretty rough 4-hour ferry ride from San Andrés. Its proximity and lack of direct flight connections have managed to keep the island from becoming over-run with tourism. Those adventurous travelers who overcome the obstacles to make it to Providencia will be rewarded with stunning beaches surrounded by palm trees, looking out at turquoise waters as far as the eye can see. But the real charm of the island is its distinct culture which is influenced by many different cultures, as the island was a popular stop for pirates and colonists alike back in the day. The locals speak a type of Creole which is influenced by Spanish, African, and English languages. Don't neglect to interact with the locals to eat some of the best seafood around and learn about the island's unique history.
Cyprus
While the island of Cyprus might have a controversial history, there is nothing controversial in saying that the island is stunning. Cyprus offers mountainous terrain and around 650 km (400 mi) of coastline. With so much coastline, the island has the perfect beach to suit anyone's needs. Whether you're looking for a party beach or the perfect secluded beach to relax and go topless, you can find it in Cyprus. There are the golden-sand beaches of Ayia Napa along the south-eastern coast of Cyprus and the steep, rocky coastline of Akamas Bay which boasts beautiful wildlife, flora, and fauna to discover. With so much diversity of landscape and culture, it is the perfect place to rent and car and take a road trip around the coastline to uncover the beauty of the island.
Waiheke Island, New Zealand
As if the North and South islands of New Zealand weren't gorgeous enough, with just a quick 35-minute ferry ride from Aukland you can be in paradise on Waiheke Island. Waiheke Island is 19 km (12 mi) of breathtaking landscape, full of vineyards, coves, and killer views of Aukland. The island is plentiful with coves that have an astonishing contrast between the bright blue sea, white sand beaches, and lush green shrubbery that is reminiscent of an almost tropical Santorini. The island is becoming known as a wine destination with plenty of wineries to visit, making it easy to experience the island with a glass of wine in hand. The wines are not only of impressive quality, but the vineyards are situated right next to the sea offering incredible views. With ease as you can go winery hopping to places like Man O'War Vineyards where the vineyards seem to disappear into the blue sea. Don't hesitate to take your next trip to Waiheke Island to experience relaxation and beauty at its finest.
Ponza, Italy
Ponza is a charming little island located off the western coast of Italy between Rome and Naples, popular amongst Romans for summer vacation. Ponza feels as though it is stuck in time, where life is slower and for locals, living the laid-back Mediterranean lifestyle is a given. Colorful houses line the hilly island appearing to be stacked one on top of the other, resembling the houses of Cinque Terre, with cliffside views and pebble beaches. The lack of sandy beaches makes it is best to discover the island by boat, which is easy and affordable to rent at the harbor. Some of the most breathtaking beaches of the island feel as though they have been carved into the steep cliffs that make the perfect hidden getaway for a swim in the warm, turquoise waters of the Tyrrhenian Sea. The island isn't just popular with Romans today, there is proof that Romans have been enjoying the island since Roman Empire, with old Roman pools, graves, and a tunnel that connects the harbor to Chiaia di Luna beach.
Raja Ampat, Indonesia
Raja Ampat is an island getaway for those truly looking for seclusion. Don't expect to run into may other travelers or any people for that matter. This UNESCO world heritage site is made up of 1,500 islands that are anything but easy to get to, keeping them well preserved and much less visited than other Indonesian islands. And with a population of just around 5,000 people, it's possible to visit islands with virtually no-one else on them. Raja Ampat is said to have the most biodiverse marine life in the world, making it a haven for divers and snorkelers alike. While you shouldn't expect luxury resorts or western comforts, you can expect to have some of the most breathtaking islands in the world all to yourself.